When a test is necessary, where do you send the employee? Who will do the test? How reliable will the test be? Will the paper work be error-free and follow all necessary regulations? How will your employees, clients, or family members be treated? How much will it cost? These are just a few of the questions that you might ask. IEBT has the answers.
IEBT has been conducting alcohol testing since 1988 and was at the forefront of setting the standards for the testing process. Many of the today's regulations are a result of IEBT consultations and recommendations.
IEBT follows the same procedures that are used in federally mandated testing, protecting the identity of the donor and assuring the integrity of the test.
EVIDENTIAL BREATH TESTER or EBT such as the Dräger 7410 (left) is required in order to conduct both alcohol screening tests and confirmation tests.
ALCOHOL SCREENING DEVICE or ASD such as the Guth Mark X (right) and the disposable saliva alcohol kit QED A150 (center) can only be used to perform alcohol screening tests.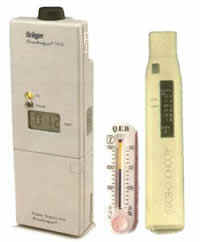 IEBT conducts regulated and non-regulated alcohol testing in the following categories:
Workplace, BWC and DOT Related
Pre-Employment, Baseline, Random Selection, Reasonable Suspicion, 24-Hour Post-Accident, Return to Duty, and Follow-up Testing.
Private or Personally Related
IEBT provides private testing services for individuals monitoring alcohol related behavior of family members or children. We also provide testing for private attorneys, court systems and schools.
In addition we are able to provide expert witness testimony in all matters related to alcohol testing.